Emilia is a graduate of OCAD, an abstract expressionist and the owner and founder of Maggiolly's. She enjoys exploring the unknown in her paintings, often inspired by music, nature and emotions. Emilia loves providing her community with access to art supplies and classes, encouraging everyone to be creative and express themselves!
www.emiliaperri.ca
Ricky is an artist, art instructor, and community arts advocate who loves exploring his imagination. The lead kids art instructor at Maggiolly's, Ricky makes sure each art class teaches kids fundamental skills and techniques, while also allowing them to explore their creativity, make friends, and build confidence. Ricky also teaches drawing and painting to adults, and private lessons to students of all ages. See his work and more at his website!
www.RickySchaede.com
Alex Landon Richardson is a contemporary painter whose practice asks questions about human interaction with the land in the context of outdoors leisure. She began her painting career at the nearby Alton Mill, and then went overseas to obtain a Master of Fine Art from Goldsmiths, University of London, UK in 2013. She currently teaches Fine Art at Nipissing University in North Bay, Ontario. When she is not up North teaching, she is living and working in her studio in Caledon, Ontario.
Jada Doucette is a local art teacher. Jada started her career as a graphic artist and illustrator. In recent years Jada has been focusing on teaching kids and adults the fundamentals of art with a focus on drawing, colour theory and painting skills.
Darlene was born in Montreal and attended Concordia University, graduating with a B.F.A, major in Graphic Design. She spent the next 40 years developing a successful career in business. However, she recognized it was time to turn back to her art, so in 2005 Darlene began to work towards creating both a vocation and business, painting in whatever spare time she had from her full time career. Continuing to take courses and working with other artists, Darlene began to show locally and in the GTA. In 2012 Darlene Hassall became a full time artist. Her work has been featured in Style At Home Magazine, and she has also travelled to Mexico to supervise the hanging of some of her works.
Darlene loves to have people visit her studio – in Shelburne, or Orangeville. Please call her to set up a time.
Peter's creative process has been strong from a young age, leading him to study fine art at OCAD. After school, he continued to explore his craft while working in the commercial art field. Peter started a painting group, called Studio Twenty, where artists could come to paint and where Peter first starting teaching. This group has grown to be a very talented group of painters who have raised thousands of dollars for various charities. After many years of professional painting and teaching, Peter published a book "How to Paint with Acrylics" available for purchase in many places, including online and at Maggiolly's.
www.peterjohnreid.com
Laurie uses the word ἁπλότης (haplotés), meaning "singleness or simplicity" in Greek, to describe her approach to her watercolour, acrylic and ceramic works. Her motto from Antoine de Saint-Exupery, "Perfection is achieved, not when there is nothing more to add, but when there is nothing left to take away" is applied not only to her own artistic process, but to her teaching methodologies as well. From her early years in commercial art and teaching art, to a combined career in illustration and graphic design, Laurie returned to her first love in 2010 with a series of forty plus large scale mixed media works (spanning a four-year period) commissioned for commercial installation across the country. She now works from a rented studio space at the Farmhouse Pottery Studio in Hockley where she enjoys working in ceramic, watercolour and acrylic.
"Painting is pretty much like breathing for me now. I started at a young age, copying the works of Glen Loates and Andrew Wyeth and it just grew from there with the increased exposure to more and more possibilities with paint. Northern and southern European impressionists along with some of the French and Dutch painters as well as North American impressionists all have left their mark on me. The quality of light in anything I see becomes the focus of my thoughts when a painting begins. Light has an emotional statement to make as it touches things, passes by them, floods over them...it creates a colour field that allows me to enter in. Once in the the space I begin an expression of the space and the affect it has on me. Colour relationships are the voice of that illuminated space that I try to speak to with my brush. It's always exciting."
johndavidanderson.ca
Andrea began her fine arts training in 1979 just as the Vancouver School of Art was becoming Emily Carr College of Art. She continued her studies at Capilano College in North Vancouver. In addition to her fine arts career, she works as a graphic designer and web designer. Andrea is a member of Dufferin County's Kame & Kettle Artists and maintains a studio/retail space in the prestigious Dragonfly Arts on Broadway in Orangeville. "Humans are language-makers, driven to decode, organize, modify and share symbol sets. We attempt to master our environment via language, laying thin layers of human-scale marks over cosmic-scale realities, aiming to own our physical and psychical space."
www.andreatrace.com
Carol Gregg was raised in Northern Ireland and has painted since her teens. Being mainly self taught, she has studied with Harold Klunder and Peter Kaliznik. In her paintings, Gregg hopes to capture the spontaneous mood and energy of her subjects with palette knives. Carol loves fluid and vibrant colours, and likes to spend time in quiet contemplation observing her surroundings. Palette knife painting lends itself to a very gestural style of painting which she adores. You can study the art of palette knife painting with Carol at Maggiolly Art!
Roslyn is an award-winning Oriental brushstroke or sumi-e artist, and has been creating her Zen paintings of animals, birds and nature for more than 35 years. Her work has been exhibited in Canada, England, Japan and China. She has been twice-blessed with The Ruth Yamada Award for Excellence in Sumi-e, in Sumi-e Artists of Canada Annual Juried Exhibit. In 2009 Roslyn was recognized for "An Innovative and Personal Approach" from the Canadian & American Sumi-e Societies. The body, breath & brush are one with each brushstroke as she moves & breathes with the brush, reaching within to share her spirit with the image on the page. The key to this art form is simplicity, elegance, beauty, & serenity. Roslyn's work can be seen at Dragonfly Arts on Broadway in Orangeville.
www.artbyroslyn.on.ca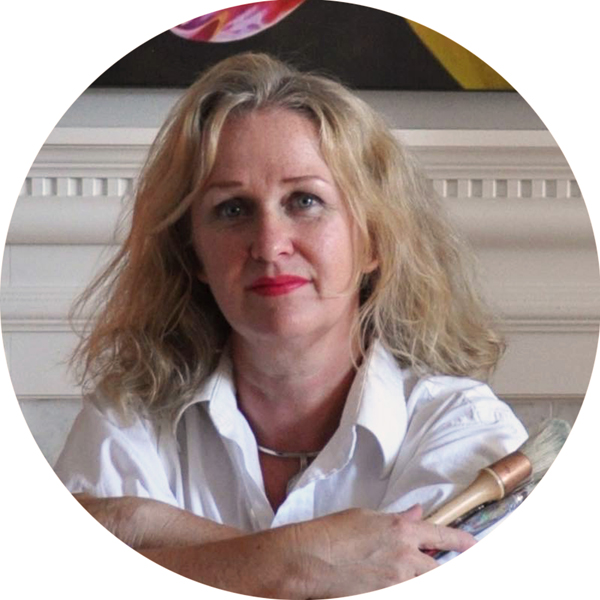 Michele Van Maurik is an award winning artist whose dramatic floral paintings are quickly gaining international recognition. Michele has been called "a genius of light" and her paintings have garnered the attention of the Arts, Sciences and Lettres Academy of Paris, which awarded her the Silver medal for excellence in painting. Selected to represent Canada as part of the Canadian delegation, Michele was invited to show her painting, "WHITE PEONIES" by the Societe Nationale des Beaux¬Arts held at the Louvre in Paris December 2015. The attention to detail, colour mastery and luminescence in her work have made her larger than life floral paintings highly sought after by discerning art collectors. Michele strives to create works which uplift and inspire.
www.michelevanmaurik.com/
Wendy Reid received her formal art education from Georgian College's Advanced Art program, where she received a Scholarship, bursary, and attained the Deans list throughout the program. Reid has been painting in watercolours for thirty years. She began her art journey right here in Dufferin County, learning from local artists who's works, expressions, and classes inspired her. Reid gives back to the community that nurtured her and teaches public and private classes, including the "Artists in the school's" program. Reid's own works are contemporary, illustrative, colourful, and demonstrate experimental paint handling. Reid catches your eye by using abstracted colours, negative space, and multi layers to evoke a new reality, intrigue and context for the viewer. Her work is collected locally, and internationally, and she has recently exhibited at the MacLaren Art Gallery.